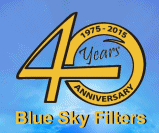 Welcome to Blue Sky Filters:
the highest-quality, professional air and liquid filtration services for 40 years. We manufacture filter bags, recycle your used bags, and stock the supplies, and accessories for all of your filtration needs. Our programs and products are designed to save you time, money and meet your environmental requirements. Learn more about us and our complete product and service list.
Visit our Equipment for Sale and Monthly Specials page.
Environmental Commitment: Cleaning and recycling your filters is only the first step. We are based in Milwaukie, Oregon with a great portion of our customers in Washington, Idaho and California. We will ship our quality products to customers anywhere in the world. Our commitment to clean air and clean water extends to our own process, assuring you that we meet or exceed local waste water and handling requirements. To view this, you will need Adobe Acrobat Reader. Click here to download a free version.
Our customer support page is not functioning at this time. Please use our
"Ask the Bag Lady" page to get help and solutions to your problems.