Virtual Market Enterprise Inc.
G Richard Yamagata is co-founder, CEO and President of Virtual Market Enterprises, Inc. He also is on the board of directors of the Davis Community Network (1996 to present), secretary of the board of directors of the Davis Democrat Club (1998 to present), on the board of directors of Virtual Market Enterprises Inc (1996 to present), member of the board of the Business Link of Woodland and Davis (2002 to present) and a founding member/co-founder, board member and secretary-treasurer of the Davis Progresive Business Exchange (2005 to present). He was communications liason of the Independent Order of Oddfellows chapter 169 from 2005 to 2009. He holds a BS and PhD from the University of California, Davis.
G Richard was the recipient of the Williamson-Weir Award recognizing outstanding service to the Democratic Party of Yolo County in 2007. He maintains that his contributions to the party are all due to the work of his fellow board members of the Davis Democratic Club. No one person can do it alone and it is only through teamwork can success be achieved. Richard's job is to help and facillitate the club meetings and its activities and the actions of the club board is integral to its continued success. People like President Arun Sen, Vice President Mike Syvanen, Treasurer and Grand Dame of the Yolo County Democrats Betty Weir, Corresponding Secretary Julia Sanchez, Publicity Officer Barbara Slemmons, Membership Chair Carl Schmid, Past-President Bob Bockwinkel, the other board members, advisor and mentor Jerry Kaneko, and the general members of the Davis Democratic Club are all equally responsible for the success of all Democratic activities in Yolo County.
G Richard is the webmaster and web artist of over 140 web sites which are updated from weekly to annually. To see these web sites, visit the Virtual Markets below.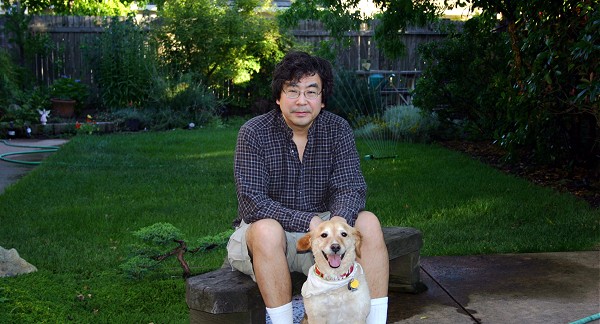 A project that Richard would like to do is to put old fairy tales-folk tales on-line. Because all of these stories are over a hundred years old and passed down through the ages, there is no copyright on the stories. If this project takes off, you can find the folk tales-fairy tales at http://yvm.net/go/gizmo/. This is the web site of Elisabeth Sherwin a book reviewer and interviewer of Northern Californian authors. Richard is the web artist of this web site. This should be a good venue for such a project.
His only favorite movie reviewer is Roger Ebert, because there is not a single movie that Roger Ebert has given a positive review that he did not like nor a single movie that he panned that he did not hate. This unique phenomena has Richard purchasing Roger Ebert's Movie Home Companion review guide every 5 years since 1989 and has him watching each week Siskel and Ebert, now Ebert and Roeper. The review that firmly established Roger Ebert in his mind as the person to read or view for movie reviews was the famed Benji, The Hunted review disagreement with Gene Siskel. As this page is updated, Roger Ebert's e-mail movie review newsletter just arrived for August 2008. Roger is now the expert at summing up movies in one sentence! In this day and age that is something that we are badly in need of, people that can cut to the heart of the matter in a few words. He hopes to see Roger Ebert return to the Ebert and Roeper TV show. People should realize that Roger Eberts contribution to the American Film Industry is great. His reviews and interviews filtered through his love of film and and his philosophy of viewing movies has influenced many, many people that like to watch movies and be entertained. As the doom-sayers continue to predict the demise of the movie theater, as long as Roger Ebert is writing reviews, that will not come to pass. Roger's wit and unique writing style remains as enjoyable to read and his advice on what is worth seeing remains true to G Richard's tastes. Who else could write, "I like this movie about as much as it's possible to like a movie with a two-star rating." That is part of what makes reading Roger Ebert reviews so truly enjoyable.
Richard's favorite Anime series is Cowboy Bebop. The animation in this series is unmatched and that is an understatement. It is arguably the best anime ever produced to date. He has given thought to what makes this in his opinion the greatest anime series after a decade. It is the original entertaining story lines (now cliched to death and reproduced in other anime and TV shows since 1997), the exceptional visuals and animation, and the exception soundtrack. The soundtrack and music is by Yoko Kanno, who has few peers in terms of talent in this genre. It is all great music, but what stands out is the music in the episodes with the character, Vicious. The closing song to the entire series, "Blue," is so perfect and fitting, it is painful to listen and absorb to the very last words of the song. The plot lines are not only entertaining, but were refreshingly unique and after a decade, still entertaining. The animation is always wonderfully busy. Keep your eye on the eye candy background images and pans and you should see life in the late 21st century passing by. The title of each episode is a record album by a popular artist or group. The episodes that are his favorites because of the plot and music are 5 - Ballad of Fallen Angels; 9,10 - Jupiter Jazz Parts 1 and 2; and 26 - Real Folk Blues Part 2. The episode that is his favorite in terms of an entertaining, laugh out loud, comedy plot is 17 - Mushroom Samba.
Along those same lines, his favorite anime series of 2004 is Witch Hunter Robin. The animation does not come up to Cowboy Bebop standards, but what makes up for that is the plot lines of this dark, mysterious series. Nothing can be taken for granted as the story develops, becoming more and more fascinating. The best analogy is that the plot of this story is like an onion. As you peal the layers back, you get closer and closer to the core of the story. This process keeps you coming back for more, starting from about episode six. The Witch Hunter Robin fan link exchange program was the basis for the creation of this web page.
Richard has received more and more enjoyment from watching anime. In 2005 his favorite by far was Howl's Moving Castle with its theme that true love of the heart goes beyond age and physical visages and can change the world.
In 2006 the viewing has taken on a darker tone as determined by family and friends. He is collected and viewed the dark adult anime series Baslisk and Speedgrapher. Baslisk is a historic period piece and knowing history, it can only end badly. But the artwork is exceptional and the characters are strong and rich. They have to be because they seem to burst upon the scene and then quickly die, to be viewed later only in flashbacks. This anime also made its way into a live action feature movie called "Shinobi: Heart Under the Blade." Some people believe the movie is better than the anime series and Richard agrees with them..
In 2008, the best anime in his opinion still does not measure up to Cowboy Bebop. But, Solty Rei, which started in 2007 and finished in 2008 is thoroughly enjoyable. This story takes place in the far distant future. Beyond that, it is a mystery that keeps you enthralled as more and more is revealed. What, this is not San Francisco or LA in the distant future...? It has a story line that continues to surprise to the very end and when you think the story is over, it is not and it continues on. Starting in 2007 and going on into 2008, the search for another Cowboy Bebop continued with his collecting Black Lagoon, a series that is gritty and contains so much foul language, this is not for kids. Also, the main female lead character is a sociopath. The series finished in the fall of 2008 with three disks. The pattern of three episodes per story arc did not follow through in the end. The last story arc was 6 episodes and the story is so tragic that it was heart wrenching.
The 2008 series that had exceptional visual elements and again interesting and fresh story lines is Mushi-Shi. It has been said that watching Mushi-Shi is like watching beautiful wood cut art in animation. It is based on one of the top 5 Japanese Manga of all time and the visuals and stories show that they have successfully conveyed this Manga to DVD. The last series that has captured the youth of 2007-2008 and was recommended by Yamagata is Death Note, the live action movies. There are three of these live action movies, now. It is based upon a popular Manga and the anime is not as good as the live action movies. The series is so captivating for teenagers, it has been banned in some school systems and one student was expelled from school for using a "death note." [ Click Here for more on this ]. In 2008, the best anime for all adult ages in his opinion that Richard collected and watched was HELL GIRL. It is reminiscent in some ways to Witch Hunter Robin.
An old series that came out in 2006 was Gankutsuou: The Count of Monte Cristo. This was rated by Theron Martin at the Anime News Network web site as the best of 2006. Richard finally found all of the episodes in 2008 at Fry's Electronics and watched the series from the middle to the end and then from the beginning to the end. He was skeptical, because he did not want to see yet another adaptation of The Count of Monte Cristo, which is why he watched from the middle to the end.. He was surprised that it was superb in both animation artwork and in music and was pleasantly surprised by the fresh plot lines. It was not what he expected at all. The title and ending music is done by an original folk artist and the music is quite good. It is no Bebop, but it is an original adaptation of the Victor Hugo work which takes place in the far future with a spacefaring human race. It is well worth collecting and watching.
A series that some think is completely perverted is Glass Fleet. Richard collected the entire series and started watching it, but was turned off by the characterization that the aristocracy of a galaxy far, far away is "French" and they are all effiminate "males" that like little boys and girls or play with their cloned daughters. His friends are pretty much divided in their opinion of this series, but for the most part most agree that it is not worth watching all 26 episodes. There is a pay-off, if you watch the entire series. The entire story takes place in a vast void or bubble surrounded by a nebula or gas cloud. At the entrance to this void is a black hole, which is drawing in everything that is present in the void. The legend in the story states that, whoever unites the "universe" will uncover lost technology of the ancients, which will save civilization. At the end of episode 26, everything literally comes together and it is a very satisfying ending.
The last series of interest during 2008, which came out in 2006-07 is Egro Proxy. It is a dark anime series about robots and a virus that makes them sentient. The boxed set came out in September 2008 and it was the the last anime that G Richard recommended in 2008.
In 2009, Richard's favorite anime series was Moribito: Guardian of the Spirit. This show has the most detailed art that stands out, all by itself. Where Mu-shi-shi is pastels and beautiful blurred images reminiscent of woodblock ink prints, these images are colorful and crisp and clear (in the more colorful episodes). You can see individual sparks of flame or flakes of snow. The episodes were viewed from 480p on television sets to 780p on HD screens. The upconverted DVD gave the most beautiful and memorable veiwing experience. The storyline holds together and historical-cultural relationships reminiscent of the power struggles in any long lasting dynastic ruling body are true to form. The main character, Balsa, is the first strong female character that Richard had seen portrayed in anime who captivates and carries the show from beginning to end. The anime and character comes from the first of Nahoko Uehashi's fantasy novels. There are 10 of these novels. One can only hope that more of Uehashi's books with Balsa will be turned into anime and that it continues to be as richly done.
G Richard's passion remains collecting and watching DVD movies with good friends. Richard's collection has grown to over 2300 DVD titles and continues to grow at a rate of over 30 DVDs per month. He wants to start writing movie reviews, but with work and everything else, that remains only an unfulfilled dream. To view one of his reviews, [ Click Here ].
DVD Movies seen with friends, compilations and ratings:
Mike Syvanen
Leland Yamagata
Dan Tokunaga
Mike McCreary
What must be explained is that after May 0f 2009, poor health and medical tests drained off energy and Richard was not able to maintain these movie viewing log pages. To explain what will will find when you click on the line to the DVD Movies page, Richard sees the same movie at the homes of friends. If he sees the same movie five times, it is because it has to be a movie that keeps his interest and that he finds entertaining or thought provoking or very interesting. An example of a movie that he found entertaining and interesting was Joss Whedon's Serenity -- Firefly. He saw that movie five times before he stopped catching new things that he had not noticed before. All in all, he must have seen that movie at least 9 times since it was released and enjoy it each time.

Another example was Tony Gilroy's Michael Clayton, starring George Clooney. He saw that movie a total of 5 times in 2008 and each time, he discovered new things about how the plot fit together. Part of the director's tricks to build suspense is that the dialogue in the beginniing is muffled and I did not hear and comprehend it all until about the third time through the movie. The fifth time through, he finally realized what provoked Michael Clayton to stop his car on that rural road. It was puzzling that such a well written movie had a scene that did not fit within such a tightly scripted movie. Well, in the movie, there is a RPG (role playing game) game that Michael Clayton's son is playing that is based upon a book. The son explains that in the came all of the animals are in psychic communication with each other and that there is trouble in the kingdom. Michael Clayton was in trouble and he stops his car and walks up to the top of the hill. Well, in the movie, Michael Clayton is leafing through the book that his son had loaned to one of the major characters that ended up dead, and there is an illustration of a horse stading beneath a tree. That scene was close to the one that he saw and George Clooney walks up the hill and looks the horse in the eye and without a word of dialogue, you can hear him say to the horse and his dead friend -- "what the hell do I do now?" That was excellent acting and also closed that plot hole for Richard. Also, watching the movie with friends leads to observations that Richard missed before, like Mike McCreary stated that at the end of the movie, the Tilda Swinton character collapses. Tilda Swinton does it so well that you may not even notice! So, if you follow this link to http://dcn.davis.ca.us/go/yamagata/movies/, you will discover what movies G Richard Yamagata finds good enough to sit through multiple times -- or not.



As a note of complete trivia, what started the Yamagata DVD collection are the BBC television tales of Richard Sharpe, a character created by Bernard Cornwell for his "Sharpe" novels. The clarity of the picture and sound quality on DVD is far and away superior to VHS tape or broadcast TV, and with that realization, the rest is history. Richard Sharpe is played by Sean Bean. The series has this great beer drinking song that adds another stanza with every TV episode and in 2007, another TV show was added to the collection. The total number of TV shows in the series now stands at 15 episodes. One can only hope that more will come to pass. "O'er the hills and o'er the plains; for fortune, plunder, gun and fame; King George commands and we obey; o'er the hills and far away..."


Davis | Woodland | Reedley | Vacaville | Fresno | Sacramento